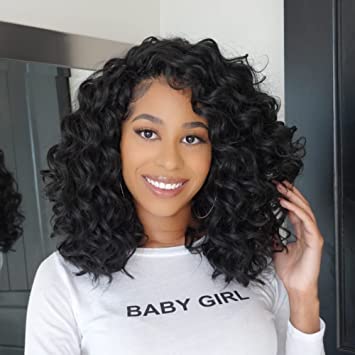 If you're looking for a hair accessory that's perfect for summer, water wave crochet hair is an excellent choice. 
This hair comes in different lengths and can be used for a variety of styles. It's easy to crochet with a latch hook and is available in many different colors, including ombre shades.
Water wave crochet hair is a very versatile type of hair accessory that is available in many colors and lengths.
It is also very easy to use and can be used for a variety of popular hairstyles. Whether you're looking for a simple braid or a trendy ombre hairstyle, water wave crochet hair is the perfect solution for you.
How to maintain water wave crochet hair
To maintain the look of water wave crochet hair, you need to follow a few simple steps. First, you need to wash your hair. After shampooing, rinse thoroughly and pat excess water off your roots. Once your hair is clean, diffuse it and air dry. Do not use hair spray, because it will cause damage.
You can also trim knots and loose strands to keep the hairstyle neater. It is also important to apply mousse and trim flyaway strands to prevent the style from frizzing. In order to keep the hairstyle lustrous, you should follow these steps on a regular basis.
Water wave crochet hair is available in many lengths. The Freetress brand is a popular choice. It is simple to use, and comes in various colors. You can also choose ombre colors for your crocheted locks.
You can choose from several colors, or you can use the same colors as the color of your natural hair.
How to refresh water wave crochet hair
You can use water wave crochet hair for a variety of hair styles. This type of braiding technique gives your hair an incredibly soft and silky feel.
It is an easy-to-use technique that can be used to create a variety of styles, from loose tresses to long, flowing waves. Water wave crochet hair is also available in various colors, including ombre shades.
The first step is to wash and dry your crochet hair. Be sure to thoroughly rinse out any excess water and pat dry the roots.
Then, use a blow-dryer or diffuser to dry your hair. This step helps to prevent frizz and keeps the style looking fresh longer. You can also use mousse to minimize the frizz of crochet hair styles.
Can you go in the water with water wave crochet hair?
You may wonder if water wave crochet hair is safe to swim in or wash. Most synthetic hair is made from Kanekalon or Toyokalon fibers and is processed using heat to create a desired curl pattern.
This type of hair can be washed, but you must take precautions because hot water can ruin the curls.
You should avoid brushing or combing crochet braids. Also, do not apply wig spray or any hair products to it.
You can use Mousse or Hawaiian silky 14-1 conditioner to restore curls. If you do decide to go swimming with your crochet hairstyle, you should shampoo it after.
It is best to secure your hairstyle at night with a satin bonnet or scarf. This prevents the hair from getting tangled. You should also clean your crochet hair weekly to remove buildup of hair products.
Usually, synthetic hair extensions are used to make crochet hairstyles. Synthetic hair extensions tend to be more stable and won't slip. You can also choose a color and style that you want. Synthetic hair extensions are more likely to hold knots than natural hair does.
You can even choose a pre-styled hair style from different brands. Some of them are Freetress, Janet Collection, and Kanekalon.
Can you swim with water wave crochet hair?
There are several considerations when swimming with synthetic crochet hair, as well as special considerations for swimming with braids.
If you have synthetic crochet hair, it's important to know how to properly wash and maintain it. Most synthetic hair is made from Kanekalon or Toyokalon fibers, and is heat-processed to achieve the desired curl pattern. Whether or not you can swim with it depends on how you wash it. The curls in synthetic hair are set with boiling hot water, so washing it with warm water can result in tangles.
Another issue is weight. Synthetic crochet braids tend to weigh a bit, and their weight depends on the number of braids and the quality of the synthetic hair. If you're planning to swim with it, choose a brand that's swimming-friendly and doesn't add excessive weight.
How to keep it from frizzing
There are many ways to maintain water wave crochet hair without causing it to frizz. One way is to wear your hair in a low bun or pineapple braid in the morning, or cover it with a satin scarf. It is important to keep the hair covered in the shower and wash it frequently, but you can also clip the ends of your hair.
One way to reduce frizz is to avoid using styling products too often. Synthetic fibers do not absorb styling products like natural hair does, so they sit on the strands. Over time, this can lead to dull strands that are prone to matting. Use styling products sparingly, and you'll find your hair looks beautiful, shiny, and manageable for a longer period of time.
How long does this  hair last for?
Water wave crochet hair can be long-lasting, depending on how you take care of it. For instance, it's important to wash it regularly, but don't overdo it. Unlike other hairstyles, water waves tend to tangle more easily than other types, so you might have to replace your crochet hair style more frequently than other types.
In addition, it can become damaged more quickly, so you should moisturize your scalp regularly. You should also limit brushing and combing to keep it in good shape. Finally, before going to bed, tie it down with a satin scarf to prevent frizzing.
Crochet hairstyles are also easy to take care of and can last four to eight weeks. Depending on how well you care for it, your water wave crochet hairstyle will look amazing for weeks.
You can also use this hairstyle more than once, as long as you're careful. It's a great choice for busy women who want to look their best without too much time or effort. In fact, many busy celebrities are turning to crochet hairstyles because of their low maintenance.
Water wave crochet hairstyles are made using human or synthetic hair, depending on your preference. However, it's better to use synthetic hair because of its better hold and cheaper price. Synthetic hair tends to last longer than human hair, so you don't need to worry about it falling out.
If you're interested in installing a water wave crochet hairstyle at home, you can make your own at home. To do this, simply insert a crochet needle underneath your cornrows.
Then, pull the loop closed with the needle. Repeat this step until the entire head is covered. Alternatively, you can use a Flexi rod to help stretch your hair.
Depending on how you take care of your hair, water wave crochet hair can last up to eight weeks. If you're worried about damage to your hair, you can also use hair conditioners.
You can also use lotion to keep your hair moisturized. These products also protect your hair from heat styling and can also help keep it longer.
How do you wash your scalp with water wave crochet braids?
There are many ways to wash your scalp, but one of the simplest ways is to use water. Washing your scalp with water can help to remove product buildup, remove impurities, and maintain the health of your hair. The process of washing your scalp also helps your crochet braids to stay clean.
You can also use a spray bottle method to clean your scalp with water and shampoo. This method is especially useful if your hair is loose. Other methods can leave room for the hair to tangle and become frizzy, so the spray bottle method is best for this type of hair.
The spray bottle method involves diluting the shampoo so that it can be sprayed directly on your scalp. Be sure to shake the bottle vigorously.
You should also use a conditioner. Just like shampoo, conditioner works well to cleanse the hair and scalp. You should fill the bottle about 3/4 full with water and conditioner.
Shake the bottle to mix the two before applying it to your hair. After you apply it, you should rinse the conditioner out with water.
Once you have completed the steps above, you can begin the process of crocheting water wave hair. Unlike box braid extensions, water wave crochet braids can be worn for up to four to eight weeks, but you should wash them every few weeks to remove dirt, sweat, and buildup.
The process is similar to washing normal hair, but you should wash them according to your own preferences.
If you're not confident with your own crochet skills, you can seek the help of a professional to do it for you. This is the safest way to protect your natural hair. Unlike the usual braiding process, it won't damage your natural hair.
In fact, you can use your crochet braids to create a number of protective styles. It only requires about two hours to complete.