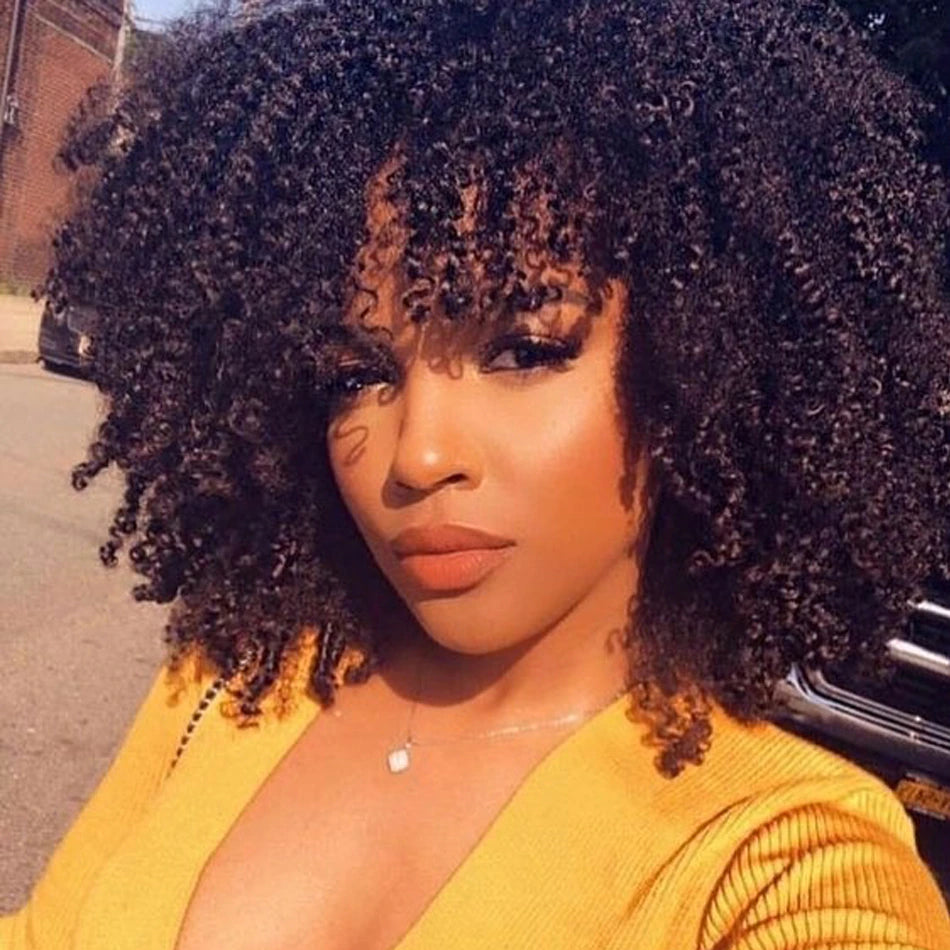 If you have a curly wig, you are likely to wonder what you should do to keep your wig healthy and bouncy. The most obvious answer is to wash it regularly. But there are several other things you should know if you want to keep your wig looking its best.
How long does a curly wig last?
A curly wig can be a great way to change up your look without going through the hassle of styling your own hair. They are also inexpensive and easy to care for. However, your wig needs proper care and maintenance to keep it looking its best. There are some wig care rules that are universally true. You'll want to wash your wigs at least every 6-8 weeks. Doing so will help reduce tangling and knots. It will also help ensure the longevity of your wig.
If you're wearing a lace front wig, make sure you're using a heat protectant when you're using a curling iron or other styling tools. Make sure you use a comb with wide teeth to avoid matting.When cleaning your wig, you should apply shampoo and conditioner in an even manner. Rinse it thoroughly from root to tip. For best results, rinse in the direction of your wig's curls.
After you've washed your wig, you should store it away from dampness and excess heat. This will keep your wig clean and prevent fiber breakdown. Store your wig on a stand or mannequin.In addition to storing your wig properly, you should take the time to comb your wig before you wear it. Wigs can get tangled easily and you'll want to prevent tangles from ruining your new look.
A good wig can last for years if you treat it right. Whether you're using natural or synthetic, you should do your part to ensure your wig lasts as long as possible. The lifespan of curly lace front wigs depends on the type of hair, the material it's made of, and how it's installed. While some wigs can last for months, others will only be suitable for a short period of time.
How do you keep curly wig curls?
If you want to keep your curls in great shape, then you need to know how to maintain your curly wig. There are a few simple steps you can take to make sure your curls last.
The first step is to clean the wig. Wigs are naturally delicate, so they should be washed at least every two weeks. A shampoo formulated for curly hair is especially gentle. It's also a good idea to apply a conditioner, which will help your curls bounce back.
Next, you'll need to moisturize the wig. There are several products that can do the job. You can use a lotion, serum, or even spray. Depending on the type of wig you have, you'll need to decide what's best for you.
Curly wigs tend to be quite fragile, so you should be careful with them. Do not scrunch them or you will ruin them. Instead, fingerstyle them to encourage curls.
To protect your wig from further tangles, put it in a wig net. This will help keep the curls in place and will prevent dust from settling in your wig.
Short curly wigs can be a little tricky to detangle, so it's a good idea to purchase a wide-tooth comb. The comb will make it easier to remove knots, but it may not return your curls to their original state.
If you want to get the most out of your wig, you can add a leave-in conditioner to keep your curls in shape. Another option is to spray the wig with a light gel to hold the style in place.
Using the right products to care for your curly wig will ensure you have beautiful, healthy curls for years to come.
Should you comb a curly wig?
If you have a curly wig, you should not comb it too often. This is because you can end up causing it to break and create knots. In addition, you might end up with a frizzy wig. To avoid this, follow these tips.
The first thing you should do when combing your curly wig is to separate the hair into sections. These will be easier to handle and will also keep you from pulling your wig too tightly.
Then, use a wide-tooth comb to gently detangle the wig. You should start at the ends of the hair and work your way up to the roots.
When your wig is dry, you can style it. A wig can be shaped with a straightening iron or a curling iron. You can also mist it with water.
Wigs are made from natural or synthetic fibers. They differ from human hair in that they lack natural oils. Proper care can make them last longer and give them a silky, shiny, and bouncy look.
To keep wigs looking shiny and smooth, you need to use moisturizing products. For curly wigs, you can also try revive conditioning spray. There are also products designed to help you style your wig while on your head.
Before reapplying your styling product, you can brush your wig to loosen up the curls. Remember not to comb when the wig is still wet. Brushing while the strands are wet will cause your wig to become frizzy.
When you are finished combing and brushing your wig, you can rinse it with cool or cold water. Do not use hot water, as it can ruin the hair's fibers.
How to Defrizz My Curly Wig
The secret to defrizzing your curly wig is to use a wide tooth comb. This can help you remove knots and tangles without causing damage. You can also use a leave-in conditioner to help smooth out your wig and keep it looking fresh.
Before you use a wig-detangling product, it is a good idea to make sure it is made specifically for wigs. Use a product with a low pH to prevent stripping and drying. Also, make sure the conditioner is moisturizing and non-greasy.
To defrizz your synthetic wig, you can use a conditioning spray or mousse. You can also add coconut oil or natural oils to your wig. These oils are known to moisturize your wig and add shine. However, make sure not to apply the product to your crown area.
The first step is to wash your wig. If your wig is heat-friendly, you can use a blow dryer at a very low setting. Wigs made from human hair can be washed in warm water with a wig-friendly shampoo.
After washing, you should comb through your wig. Apply a wig-friendly conditioner and gently comb it through the wig, avoiding the crown area. Make sure to blot the excess moisture with a towel.
After rinsing, you can dry your wig with a soft, dry brush or a blow dryer at a very low temperature. You may also choose to put your wig on a wig stand to air dry. Remember not to leave your wig on the wig stand for more than five minutes.
Defrizzing your curly wig is not difficult. You can also use a wig-friendly leave-in conditioner, which is formulated to be gentle on synthetic fibers.
How do you wash and maintain a curly wig?
Washing and maintaining a curly wig requires careful handling and a few tricks. One way to avoid tangling is to put the wig on a wig stand. You can also use a wide tooth comb to detangle the wig. After soaking the wig in a shampoo/water mixture, squeeze the water out in a downward motion to remove any tangles. The next step is to rinse the wig.
If you want to keep your curls in place, apply a leave-in conditioner. For example, the Cantu line has a conditioning spray that's popular on YouTube. Unlike your natural hair, curly wigs can be prone to tangling. However, you can avoid this by using the correct techniques. Remember to avoid brushing your wig while it's wet. Also, you should never apply too much heat to the wig. This can damage the fibers of the wig.
To brush your curly wig, you'll need a wide tooth comb. The reason is that the wide teeth distribute the water and shampoo. A regular hairbrush can damage your wig, and can even lead to shedding.
Another trick to detangling your wig is to wrap it around your finger.
Doing this allows the hair to be combed without scrunching. As a result, you get the benefit of a defined curl without damaging your wig.To keep your curls in good condition, apply a curl cream. There are also some wig grippers that you can use to hold your wig in place. Alternatively, you can tie it into a ponytail.
Wigs made of human hair should be treated like your own, and they should feel soft to the touch. If you're not sure how to care for your wig, consult the manufacturer's instructions.
Which Type of Curly Wig is Better, Long or Short?
The best type of curly wig for you will depend on your personal preference and the style you are trying to achieve. Here are some things to consider when deciding between a long or short curly wig:
Face shape: Long curly wigs can help to elongate and balance out round or square face shapes, while short curly wigs can help to soften and add definition to angular face shapes.
Hair density: If you have thick, dense hair, a long curly wig may be a good choice as it can help to balance out the volume of your natural hair. If you have fine or thin hair, a shorter curly wig may be a better choice as it may be easier to manage and won't weigh your hair down.
Style: Long curly wigs offer more versatility when it comes to styling, as you can wear them down, half up, or put them up in a ponytail or bun. Short curly wigs tend to have a more playful and fun look and can be dressed up or down depending on the occasion.
Maintenance: Long curly wigs may require more maintenance than short curly wigs, as they have more hair and may take longer to style and dry. On the other hand, short curly wigs may be easier to care for and may dry more quickly.
Lifestyle: If you have a busy lifestyle and don't have a lot of time for styling, a short curly wig may be a good choice as it is easier to maintain and may require less styling time. If you have more time to style your hair and enjoy trying out different looks, a long curly wig may be a good choice for you.
Cost: Long curly wigs tend to be more expensive than short curly wigs, as they require more hair to make and may be more labor-intensive to style.
Ultimately, the best type of curly wig for you is the one that makes you feel confident and comfortable. It's always a good idea to try on a few different styles to see which one you like best.