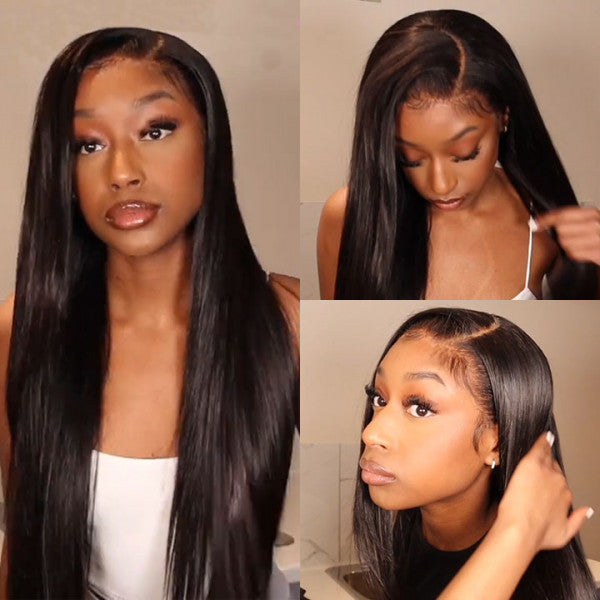 The human hair lace front wig is a type of hairpiece which is made from the natural hair of a person. It is made of a sheer lace base that goes over the scalp and is tied with the hair.
Lace frontal wigs are a great choice for people who want to change their look and feel. These wigs are easy to apply and can last a long time. However, there are a few things to keep in mind when installing a lace frontal wig.
The first thing to do is check your head size. You will need to purchase a wig that fits well with your measurements. This can make all the difference in the world. If you have a small head, you may find that the wig is too tight. Similarly, if you have a large head, you may find that the wig does not fit.
Make sure to use an adhesive that is safe for your scalp. There are some adhesives designed specifically for lace frontal wigs. Do a patch test before you apply the glue to your wig.
Lace frontal wigs - human hair is favored by many because of its natural look. They are also easy to install and maintain. When they are installed correctly, they can be worn for a week or more at a time. But they do require some maintenance.
One advantage of lace frontal wigs  is that they offer you the ability to style your hair easily. These wigs allow you to pull back your hair or straighten it. Plus, they allow you to try different hair colors without having to wear a full wig.
You can install a lace frontal wig in less than an hour. This is a huge benefit because most lace wigs take several hours to prepare. And with a lace frontal, you can choose a wig that is held in place with tape, or you can simply wear it without an adhesive.
While lace frontal wigs can be more expensive than other types of wigs, they are often worth the extra money. Since they are made with human hair, they are more natural-looking. Furthermore, lace frontal wigs are more comfortable to wear than other types of wigs. Moreover, they are easier to carry around.
Lastly, lace frontals are available in a variety of styles and textures. For example, you can get a bob wig with bangs, or a deep wave wig.
Which is better full lace or front lace?
If you are considering buying a wig, you might be wondering which is better: full lace or front lace human hair wigs. They both provide you with the same benefits and are available in various styles. However, one can be more appropriate for certain situations.
Both types of wigs are designed to mimic the natural growth of the head, though lace front wigs offer a more convincing hairline. This is because they are made of a sheer lace panel that covers the front portion of the scalp. While lace wigs are more durable, they do not offer total realism. The best wigs have hand-tied strands that give the illusion of naturally growing hair.
Depending on your budget, you can either purchase a lace wig or a synthetic wig. Lace wigs are also very easy to maintain. When you first receive your wig, wash it carefully. You should avoid using a hair dryer or washing it in the sun. Instead, use a clean towel to soak up excess water.
One of the more popular customization options is wig color. Some wigs are made from lace that can be dyed. But, this option is not available with all lace wigs. For this reason, you should purchase your wig from a reputable retailer. Moreover, you should check wig reviews on the Internet before purchasing your wig.
Generally, a lace wig will last at least six months. Front lace wigs, on the other hand, may only last for a month or two. Full lace wigs are often more expensive than their front lace counterparts.
Another benefit of a lace wig is the fact that it is very lightweight and breathable. It is also easier to style than other wigs. A lace wig allows you to exercise without worrying about damage to your hair. In addition, a lace wig can be worn in swimming.
Most lace wigs are handcrafted, but some are machine-made. This means that the material is of high quality. Therefore, a lace wig is a good investment. However, the price tag is steep. To find the perfect wig for you, you should consider your own budget, lifestyle, and personal preferences.
Which wigs look the most natural?
Lace frontal wigs are a popular hairstyle because of their natural look. Unlike regular wigs, lace frontal wigs have a clean hairline and are lightweight. This allows them to be worn over multiple occasions without having to worry about looking fake.
A natural wig can last for years with proper care. They are a great way to try a new look. However, choosing the right wig can be tricky.
Wigs come in a variety of shapes, colors, and sizes. You need to choose a wig that fits your face and hairstyle. Some wigs are pre-plucked, which saves you time and hassle. Choosing a wig that is too small or too large can leave you with an unnatural look.
Before purchasing a wig, measure the circumference of your head. If you aren't sure of the measurement, you can always hire a professional stylist to help you.
If you are shopping for a wig, you can try out several different types before making a purchase. Trying on a wig in the store can help you determine the size that is most suitable for you.
A wig can be made out of human hair, synthetic fibers, or a blend of the two. Human hair is the most natural-looking wig option but is more expensive. Synthetic fiber wigs are cheaper, but can also be unattractive.
Another popular wig type is body wave hair. This is a wavy texture that is easy to style and won't shed. Body wave wigs can be straightened, curled, or dyed.
The best wigs are made from 100% natural human hair. These wigs are the closest you can get to a real hairstyle.
In addition to offering the most natural-looking wig, these wigs are the most durable. Since they are made from human hair, they can be styled and styled again.
Buying a wig can be confusing, especially if you aren't familiar with the different styles. Choosing a wig that matches your hair type and face shape will ensure that it will look great.
Using a wig stand can also protect your wig from dust and dirt. There are also wig sprays available that can be used inside the wig to match the color.
Durability and Maintenance of Lace Frontal Wigs Human Hair
A lace frontal wig is a type of wig that is designed to look like the natural hairline on your head. However, a lace frontal wig requires special care in order to maintain its beauty and its lifespan.
The base material of a lace front wig can also affect its longevity. It can be made of synthetic fibers, human hair, or a combination of the two. Therefore, you must clean your lace front wig carefully before using it. This is because chemicals and high temperatures can damage it.
Lace front wigs can be worn for nine to twelve months, depending on your personal care habits. You can extend the lifespan of your wig by cleaning it regularly. To keep your wig looking great, you should wash it at least eight to ten times per year. Make sure to dry it properly.
If you use a blow dryer to style your wig, don't allow it to reach temperatures above 100 degrees. Use a heat protectant before you start styling your wig. Heat can cause the strands of your lace frontal wig to become dry and brittle.
Lace frontal wigs human hair are also vulnerable to water. To prevent damage from the water, you can dampen the wig before washing. After rinsing, you can air dry it. In addition, you should avoid using detangling sprays.
When you remove your lace front wig, you should gently untangle it. Do not tug on it or you may cause it to split.
Lace front wigs are easy to care for. Just be careful with the materials used. For example, don't rub it with a brush as it may cause the stitches to loosen. Also, don't store it in a place with a lot of humidity. Avoid leaving it in the sun, as high temperatures can melt synthetic hair.
Before you wear a lace front wig, make sure it matches your hair color. Most wigs come in different colors, and your skin tone will also affect the color.
Depending on the type of lace wig, you can keep it for a long time. It is best to get a premium wig that has virgin hair.