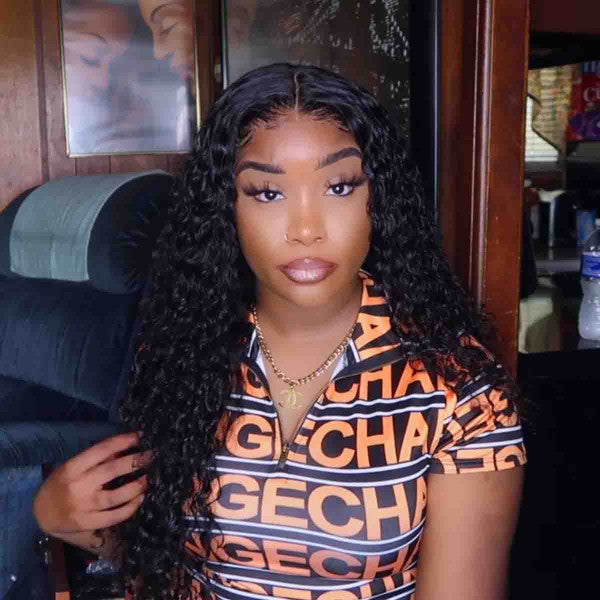 A virgin Brazilian deep wave closure wig has a defined 3a-3b curl pattern and lots of volume. It's a fully customized wig that comes with an elastic band and comb in the back. You can even tint the knots and hairline to suit your complexion. It comes pre-styled and is very easy to wear. If you're unsure about the right kind of wig for you, read on to find out more.
Virgin Brazilian Deep Wave wig has defined 3a-3b curl pattern
A Virgin Brazilian Deep Wave Closure wig has a distinct 3a-3b curl pattern. It is easy to style, maintain, and is less prone to tangling than the Curly style. A quality wig will last for years and be easy to clean. A Virgin Brazilian Deep Wave wig should be purchased with a fifteen-day quality guarantee. You may want to buy one if you don't like the look of curly hair or want a change of style.
The deep curly hair type has a defined curl pattern with ringlets the circumference of a Sharpie marker. It retains moisture relatively well but can get frizzy or dry. If you want to try this style at home, use lightweight products and a silicone or sulfate-free shampoo. You can also opt for wash n' go styles.
Virgin Brazilian Deep Wave wig has lots of volume
Virgin Brazilian hair has great thickness and volume. The 3a-3b curl pattern provides great bounce and volume. Virgin hair is also easy to take care of, so you can safely use it and wash it in the washing machine. The deep wave texture of Brazilian hair is very soft and maintains its curl pattern. This type of hair will bounce back after being washed. The volume of this type of wig will be perfect for adding volume to your look.
Because it is 100% human hair, Virgin Brazilian hair has a curly texture, which is very pleasing to African-American customers. This type of hair is also very tangle-free, shedding-free, and perm-friendly. The deep wave curl pattern is a close match to that of water waves. Loose deep wave hair is also very pleasing to African-American consumers. The curl pattern is neater than water wave hair, but it is a bit looser. Its double-weft construction makes the curls flow in one direction, ensuring that the wig does not look tangled or messy.
You can easily install this wig by braiding or clipping your own hair. This wig comes with clips to hold the hair in place. To wear it on your head, you should choose a low bun with clips. The wig is available in various lengths, from 14 to 24 inches. The lace cap helps in preventing sweat from entering the scalp. It is also breathable, so you can wear it anywhere.
It has a 3a-3b curl pattern
Our collection features tight curly to deep wave hair closure extensions. Type 3 hair is generally silky to coarse in texture but soft to the touch. Tight curly patterns are prone to frizz, so teasing and scrunching will be necessary to add volume and hold curls in place. Light holding gel may also be necessary for more defined curls.
Type 3a-3b curls have a wider circumference than type 2 or 3. These curls are coarser and dense than the other two hair types. This type of curl pattern is the most popular among women who want to look glamorous without undergoing a drastic transformation. Unlike type 2 and 3, these curls are easy to style and maintain. However, this type of curl pattern is not recommended for people with fine or brittle hair.
While the 3A-3B curls have the most volume, they are generally sparse. The three-part curl pattern is more likely to look unnatural than natural. The deep curly hair is prone to getting dry and frizzy, so you should take care of it with products that attract moisture. If you are looking for a sew-in, a 3A-3C curl pattern wig is ideal for you.