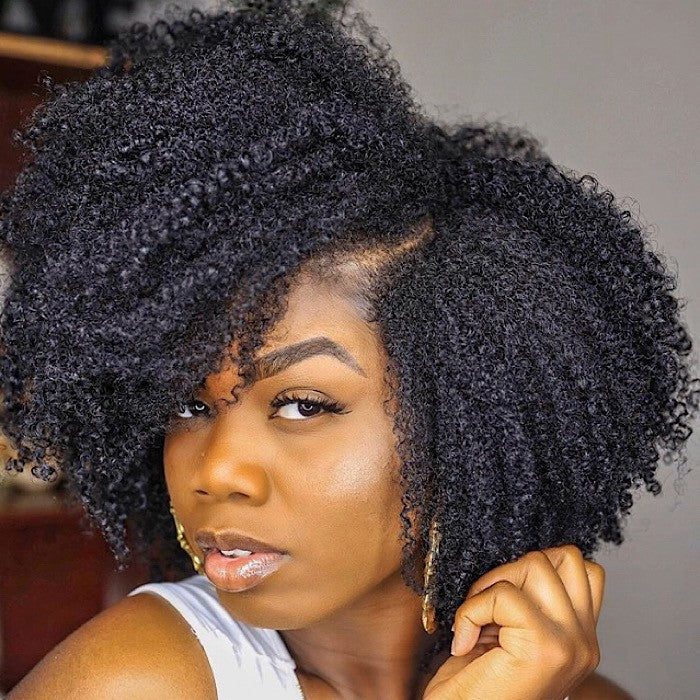 If you have natural 4C hair, you may be tempted to use every product available on the market. However, a few things you should keep in mind to keep your hair healthy are: Moisturizing, Deep conditioning, Routine salon visits, and avoiding silicones. Below you will find a list of important tips and advice on caring for your hair. This list is not exhaustive and you may find something you aren't familiar with helpful.
Moisturizing your hair
For the best results, try to moisturize your hair on a weekly basis. Your hair will become softer, smoother, and shinier. Plus, it will also look gorgeous! But do not mistake wetting your hair with body lotion or conditioner, which isn't designed for use on your hair. These products will not penetrate your hair and leave behind a sticky residue.
The best moisturizer for this type of hair contains humectants, or ingredients that attract moisture to your hair. Some examples include hyaluronic acid, honey, glycerin, aloe vera, and agave nectar. For fine curls, you may want to use honey, as it has a thicker consistency. Olive oil and grapeseed oil are also humectants.
Deep conditioning
If you're looking for the best deep conditioner for women with 4C hair, try these recipes: Using a thick, rich treatment will fill porous areas in your hair, while adding moisture. Using a conditioner rich in protein and keratin will deeply nourish your hair. You can also make your own deep conditioner at home for even more savings. Make sure to follow the instructions carefully when choosing your ingredients, and you'll have gorgeous hair in no time.
While moisturizing your hair every day is beneficial for all hair types, women with 4C hair can have a difficult time finding a deep conditioner that works for them. Because of this, it's important to choose one that has the right balance of proteins and moisture. You can also try alternating between moisturizing and strengthening deep conditioning sessions to promote healthy growth. When choosing a deep conditioner, look for one that contains fatty alcohols, amino acids, and keratin, as these ingredients are known to strengthen hair.
Routine trips to the salon
Women with 4C hair are prone to more frequent visits to the salon. This type of hair is more prone to breakage, but has several advantages. The length and texture of 4C hair are great for a variety of hairstyles, including pin-straight strands and tightly coiled curls. Whether you prefer a wavy, straight or curly look, 4C hair is great for achieving just about any look.
When styling your hair, always remember to moisturize and cut off the ends. You'll need to use a good product for your hair type. Use a wide-toothed comb on damp hair to detangle. You can use conditioner to add slip to your comb, or simply use your fingers to remove knots. If you want a more voluminous look, try a deep conditioning treatment.
Avoiding silicones
If you have hair with a high porosity, you might want to avoid products containing silicone. While silicones are a great way to straighten your tresses and improve the combability of your hair, they can also dry it out over time. Since silicones act as a barrier, they prevent moisture from absorbing into the hair. Women with 4C hair should avoid products containing silicone, especially shampoos and conditioners.
There are different kinds of silicones, some of which are better for your hair than others. Heat-styling silicones, for example, evaporate quickly. Thicker silicones, on the other hand, can build up along the hair cuticle, and they may require clarifying shampoos to remove them. In addition to leaving a buildup behind, you may also notice that your hair is weighed down or dull when co-washed. This is because the silicone coating attracts debris and makes your hair appear duller.
Scalp massages
Scalp massages are essential for women with 4C hair. Regular scalp massages promote healthy hair and stimulate hair growth. The correct massage technique should be performed without friction, as this could cause breakage. If you have time, it's worth trying out a scalp massage midday. Use your finger pads instead of nails to gently massage your scalp in circular motions. You can also use a scalp massage tool.
Oils are also a key component in a good scalp massage, since they add to the benefits. The benefits of scalp massages vary depending on the type of oil used. Choose an oil that targets your specific hair type and scalp concerns. Using your hands only can cause breakage and abrasions, so you should choose an oil made for scalp massages. Instead, use a brush or other tools made for scalp massages.
Avoiding parabens
Preservatives are used in a variety of consumer products, including skin care and hair care products. Parabens have been linked to cancer and are widely used in cosmetics and food. They are also linked to early puberty in girls and low sperm counts in men. So, if you have 4C hair, avoid parabens. But which ones are the worst? Here are some tips to avoid parabens in hair products.
Benzoyl peroxide, triclosan, and propylene glycol are all examples of products containing parabens. These chemicals are highly absorbent and can harm the scalp and cause premature aging. They also cause cancer. It's important to avoid parabens, unless you have a hair loss problem, or if you have an inherited condition such as dermatitis.