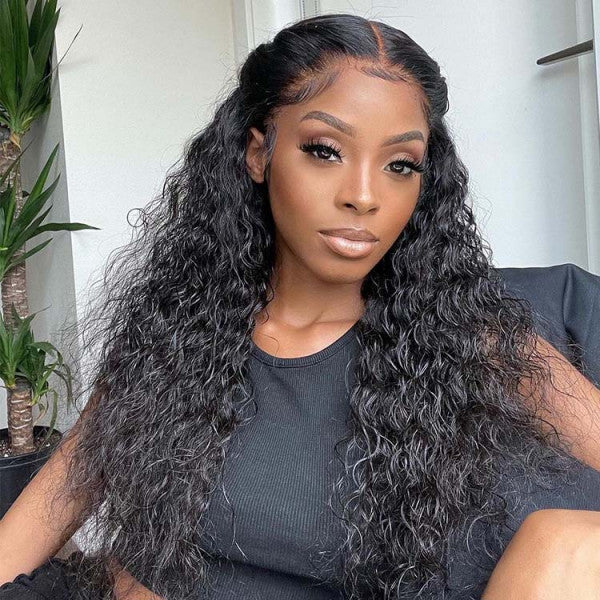 Lace front wigs are wigs with a lace base that covers the front of the head. They are typically made with human hair, although some may be made with synthetic fibers. The lace is usually invisible when worn and gives the illusion of a natural-looking hairline. lace front wigs can be glued or taped to the forehead, or they may have combs or other fasteners to secure them in place.
Are you looking to change your hair but don't want the hassle of a longer-term commitment? Lace front wigs are the perfect solution. With lace front wigs, you have the freedom to adjust your look whenever you want. Whether you're wanting a big change or just a subtle one, lace front wigs allow you to experiment with different hairstyles and still return your natural hair when needed.
Lace front wigs are ideal for women looking to make a statement with their hair. They are also great for individuals who are looking for an easy way to change up their look without having to go through the process of getting extensions. With lace front wigs, it's as simple as tying your hair back and letting your wig take center stage. If you're interested in making the switch from natural hair to lace front wigs, we've got the tips and tricks that will help get you started. Read on to find out more!
Frequently Asked Questions
What are the advantages of wearing a lace front wig?
Wearing lace front wigs comes with a lot of benefits. One of the biggest advantages is its natural look and realistic hairline. These wigs are constructed using delicate lace material which creates an invisible hairline, giving you a more natural-looking hairstyle.
Another benefit of wearing a lace front wig is the lightweight and comfortable design. The lace base is soft and breathable, preventing scalp irritation even when wearing the wig for long periods of time.
Moreover, they are also highly durable and can last for several months or even years with proper care and maintenance. Plus, they are easy to customize and style according to your preference as they have a realistic hairline.
How do I choose the right size and color for my lace front wig?
Choosing the right size and color for your lace front wig can be tricky, but with these tips, you'll be sure to find the perfect fit. First, measure the circumference of your head to determine the size that best fits your head. If you're unsure of what size to get, consulting a professional wig fitter or stylist for their expertise is always recommended.
When it comes to choosing the right color, consider your skin tone. You want to make sure that the wig's color complements your complexion and brings out your natural beauty. Try on different colors and styles until you find one that works best for you. Don't be afraid to experiment – you never know what looks amazing until you try it!
Are there any potential drawbacks to wearing a lace front wig?
Yes, lace front wigs have some potential drawbacks. Firstly, lace front wigs typically require special care and attention for long-lasting use. As these wigs are very delicate, they should be taken off daily and washed with a mild shampoo for proper maintenance.
In addition, lace front wigs can cause itchiness or discomfort if worn for too long at a time. Therefore, it is important to take breaks from wearing the wig in order to prevent any skin irritation or infection.
Moreover, because of their delicate nature, lace front wigs can be difficult to style, especially for those who have little experience working with them. Additionally, some people may find that the hairline looks unnatural due to the wig extending beyond your natural hairline.
What are the best techniques for styling and maintaining a lace front wig?
For the best results when styling and maintaining a lace front wig, here are some techniques that you should keep in mind:
- Brush your wig gently with a wide-toothed comb or wig brush. This will help prevent tangling and keep the hair looking neat and natural.
- Invest in quality wig caps which will help keep the wig in place as well as reduce irritation on the scalp.
- Trim and shape your wig for a more natural look. Consider visiting your stylist if you need professional advice on how to cut and style it.
- Always protect your wig from heat-styling damage by using heat protectant products before applying any heat-styling tools to the hair.
- Wash your wig with shampoo and conditioner specifically designed for synthetic wigs. This will help preserve its condition and prolong its lifespan.
Are there any risks or potential side effects associated with wearing a lace front wig?
Yes, there are certain risks and potential side effects associated with wearing a lace front wig. Wearing a lace front wig for an extended period of time can cause itching, redness, and irritation on your scalp. If you experience any adverse reactions to the glue or adhesive used to secure the wig, discontinue use immediately. Additionally, the repeated application of glues and adhesives to the scalp over a long period of time can cause skin damage.
Regular cleaning and maintenance of your lace front wig is essential if you want it to remain in good condition. Make sure to always follow the manufacturer's instructions while using the wig and consult a doctor if you experience any adverse side-effects of wearing the wig.
Availability Of Front Lace Wigs 
Front lace wigs are available in synthetic and human hair. They feature the illusion of a natural-looking front hairline, which allows for styling the hair away from the face. Lace front wigs are more expensive because each hair is individually hand-tied to a section of sheer lace (but not the entire cap). Most of them are ready-to-wear & temple-to-temple.
Conclusion
An affordable wig can make a massive difference to your look, but if you want to step it up a notch then lace front wigs are the way to go. They offer an abundance of benefits including being lightweight and comfortable, coming in a range of styles and lengths, and being simple to apply. You can get the look you want with minimal effort and maximum impact. To learn more about lace front wigs, visit our blog today!