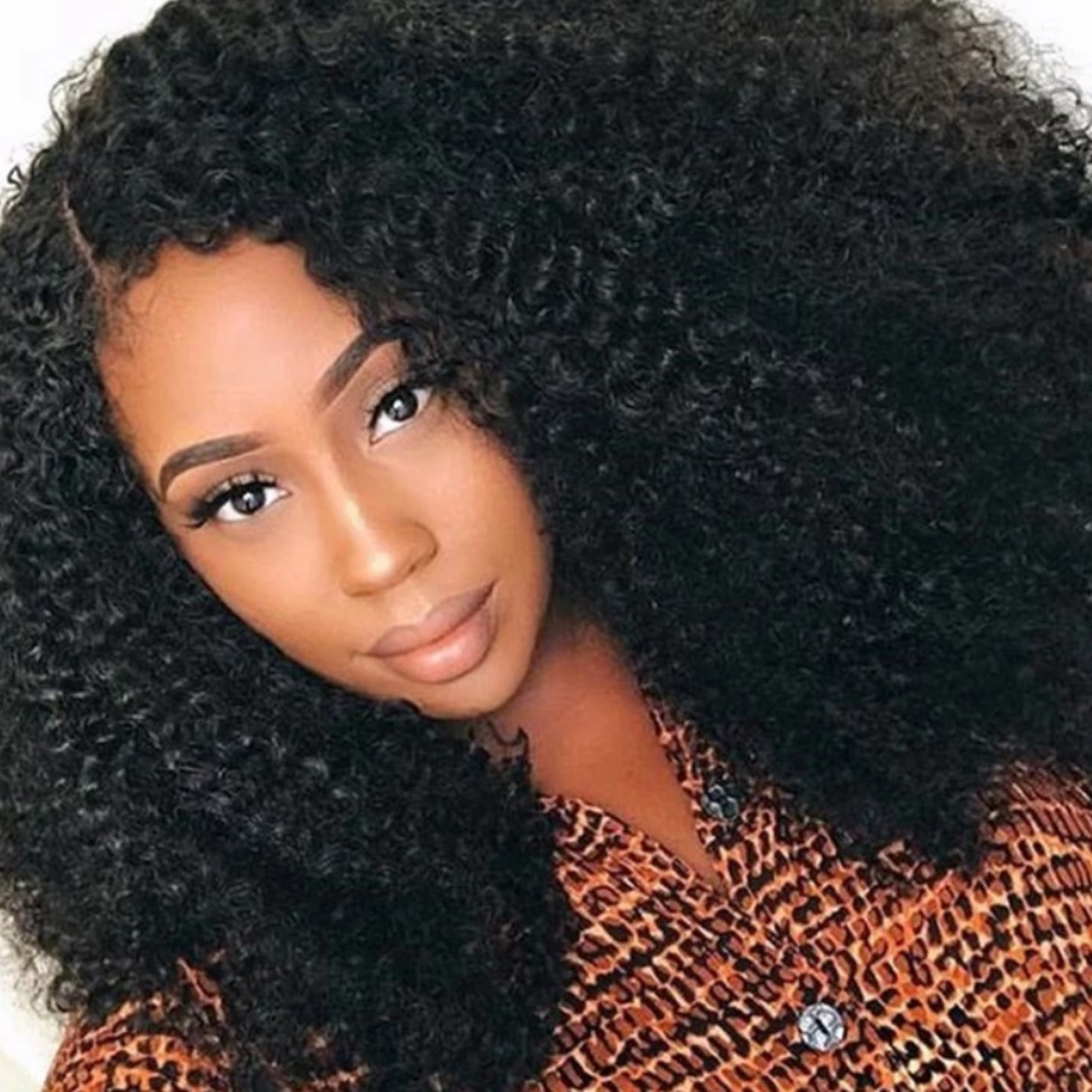 When it comes to picking a wig, choosing the perfect hairstyle is only half the battle. You have to pick a color and texture that suits your skin tone and hair type. But, before you can even do that, you have to find a wig style that's flattering for your face shape. And, last but not least, you need to make sure the lace front wig is priced within your budget.
No worries! We've put together this guide on How to Pick the Perfect 4C Hair Lace Front Wigs with all of the information you'll need to confidently choose one for yourself or for someone else on your shopping list.
How to find the perfect wig for your face shape
The truth is, finding the perfect wig for your face shape can be tricky. But, luckily, we've put together a list of styles that work well for each face shape. We even left out the ones that would make your features look awkward or unflattering.
-Oval: The best haircuts for this face shape are long layers with bangs and heavy side swept bangs. Straight hair is also great for an oval shaped face because it balances out the curves of the cheekbones and chin area.
-Round: Lace front wigs with short bangs are flattering on this face shape because it gives you a more defined jawline. Plus, layered hair will lengthen your neckline which is the most noticeable feature of this particular face shape.
-Square: Layered haircuts work well with square shaped faces because they soften up sharp angles and create balance in the roundness of your cheeks. A blunt cut with straight ends is also ideal because it's easy to style and looks modern while still being sleek enough to wear day or night.
-Heart: The best hairstyles for this face form are curly waves, loose curls, parted waves, feathery curls, flip outs, mermaid waves, faux hawks, messy buns, or top knots because they give you a softer illusion while still being trendy enough to wear during any season or occasion!
What is 4C hair?
4C hair is a type of hair that has a high level of curl. The more tightly coiled the hair is, the higher the number will be on the 4C scale. 4A is the least coiled and 4B is slightly more coiled, followed by 4C and then 4D.
What are your face shape options?
There are four different face shapes to take into consideration when choosing a lace front wig, angular, round, square or oval.
Angular faces are wider at the jawline with a narrow forehead.
Round faces have a fuller jawline and are equally wide across the forehead.
Square faces are also wide but have more of an even width on the chin. Lastly, oval faces are widest at the cheekbones with an even width across the forehead.
Why do you need a lace front wig?
A lace front wig is a type of wig that has a natural-looking hairline and can be parted in any direction. This style is perfect for those who want to wear their hair off of their face or those who want to wear their hair straight.
How to Pick the Perfect Lace Front Wigs for Your Face Shape
There are a few things you should consider when selecting a lace front wig for your face shape.
The most important thing to keep in mind is your jawline. If you have a pointy chin, opt for a wig with a high crown. If you have a round or square jaw, opt for a wig with a low crown. The style of the wig will help determine the shape of your jawline.
Your nose shape can also play into which lace front wig you choose. If you have an angular nose, pick one that doesn't follow the contour of your face too closely or it may just accentuate that feature instead of minimizing it. Rounder noses look best in wigs that follow their curvature from top to bottom and side to side.
You may want to think about how much hair loss you're dealing with before making your decision on lace front wigs style. The less hair loss, the better-looking full coverage lace front wigs will be on you. Not only will they provide more coverage over thinning spots, but they will also make it easier to blend out any natural hair growths underneath the hairline attachment area.
How to Pick the Right Color and Texture
The first thing you'll need to decide when you decide to buy a lace front wig is what style and color to go with. That can be difficult because there are so many different colors, textures, and types of lace wigs. We've put together this helpful guide to help you pick the perfect one for your needs:
--1) Choose Your Lace Front Wigs Style-
There are two main styles of lace front wigs: full lace and half wig. Full lace wigs cover all of your natural hair at the crown and back of your head. Half wigs only cover part of your head, leaving some hair exposed.
--2) Choose Your Lace Front Wigs Texture-
Textures come in two varieties: synthetic or human. Synthetic wigs are made from materials like nylon or polyester while human hair is cut from either living or dead donors (depending on who donated their hair). The way texture affects the feel of your lace front wig will depend on it's type (synthetic vs human).
--3) Choose Your Lace Front Wig Color-
Choosing a color for your wig will depend on the person wearing it and what they're trying to get out of it. Some people prefer bright colors while others gravitate towards more subdued shades. If you're looking for something fun, try bright colors like red, pink, purple, or yellow; but if you want something more subtle then browns or blacks might be
The Different Ways You Can Wear a Lace Front Wigs
The best lace front wigs can be worn in many different ways. That's the beauty of these wigs - they're versatile and can be styled to suit your own personal tastes. The first time you purchase a lace wig, it's a good idea to read the instructions for styling. This will give you a better idea of what types of hairstyles are possible with your new wig.
Conclusion
So, how do you choose the perfect lace front wig?
Find the wig that comes in a color that matches your natural hair color.

Pick a wig that matches your natural hair texture.

Make sure the wig has a full lace front.

Pick a style that suits your face shape.

Try on the wig to make sure it's comfortable and looks natural on your head.

Make sure you also get the right color, texture and style for your face shape to make the wig look more natural on you.

Remember to take care of your lace front wig so it will last longer.

And most importantly, have fun!